Jeff's Aerotech Initiator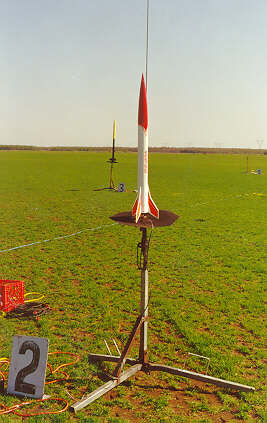 This was the first kit I built upon becoming a BAR. Can't say enough about how well designed the kit is and how much I like this rocket.
The construction is interesting. It uses plastic rings around the motor mount that have clips to hold the protruding tabs of the "Through The Wall" fins. Cyanoacrylate glue (ZAP brand medium viscosity) worked great on the plastic fins & clips and on the fiber centering rings and cardboard tubes. Twice I have had cracked fins and they were easily repairable by holding the crack open and inserting ZAP CA then holding the fin straight for 30 seconds. The cracks disappear.
The nosecone did require some carving/filling/sanding to remove the mold marks a the seam. I used several layers of primer before painting. My only real complaint is that I have been unable to match the shade of red on the nosecone to the decals. My recommendation is to use a completely different color for the nosecone and not try to match.
The steel mesh ejection baffle is great and eliminates the need for wadding.
The launch on the left was it's first time using an Aerotech G64-7W RMS. Love the flame. The G35-7W SU is also a good motor for this rocket though I've flown it even on E11s. It flies great (just avoid the F22-J motor on high wind days). Also, if it is windy out, use a shorter delay since the recommended delays are on the long side for this rocket.


Back to Jeff's Rocket Page
Back to Jeff's Home Page